LCL Injuries
The Lateral Collateral Ligament (or LCL) is a flexible band of tissue located on the outside of the knee joint. The LCL connects your thighbone to your fibula (this is the smaller bone in your lower leg). The function of the LCL is to help limit twisting and side to side motions of the knee. It also contributes to the stabilization of the knee joint, along with the MCL (Medial Collateral Ligament). The MCL is located on the inside of your knee joint and connects your thighbone to your shinbone.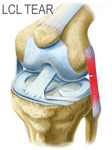 LCL injuries can range from mild sprains to partial tears to complete ruptures. They usually occur along with other knee injuries, such as meniscus tears and dislocated knees, which is why it's important to visit your doctor if you think your LCL may be damaged.
There are three different injury grades (levels of severity) when it comes to LCL Injuries:
Grade 1 - The ligament is mildly damaged. It has been slightly stretched, but is still able to help keep the knee joint stable.
Grade 2 - Stretching the ligament to the point where it becomes loose. This is often referred to as a partial tear of the ligament.
Grade 3 - This type of sprain is most commonly referred to as a rupture or complete tear of the ligament. The ligament has been split into two pieces, and the knee joint is unstable.
While the LCL is less likely to be injured than the MCL, the LCL is more difficult to heal.