LCL Tear Surgery
Surgery should only be considered if conservative treatment has failed to improve your condition after 2-3 months. Surgery also may be required if you have a ruptured LCL (Grade 3 Tear).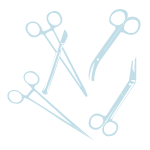 The goal of LCL surgery is to improve stability and restore proper motion. If you are considering surgery, talk to your doctor about your options, as there are several different methods. The type of surgery required will depend on the severity of the tear, as well as the location. Most LCL tears can be repaired by stitching the tissue back together, though some LCL injuries may require a graft where tissue is taken from your quads or hamstrings to replace the torn LCL.
LCL Repair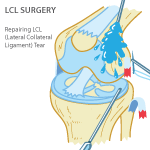 LCL Repair is performed either through arthroscopy (where a tiny camera is inserted inside a small incision) or an open incision in the skin. If your tear is located somewhere in the middle of your LCL, the two ends will be sewn back together. If your LCL has been detached from your thighbone or fibula, it will need to be re-attached with strong sutures or staples.
LCL Reconstruction
An LCL Reconstruction is a bit more serious of a procedure than an LCL Repair, as it requires a tendon graft (surgical transplant of living tissue). This can either be an autograft, which is when healthy tissue from your own body is used, or an allograft, which is when tissue from a tissue bank is used. This is an open procedure (done through an open incision and not with arthroscopic tools) where the tendon graft is attached to the bones with screws in order to replace the damaged LCL.